THE WORLS'S FASTEST & SAFEST CLEANOUT SERVICE FOR SILOS, BINS. HOPPERS, TANKS & CHIMNEYS!
Seeing Is Believing
Our system will safety remove compacted materials from any size or shape of container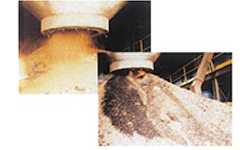 No flow or cleaning problem is too large or too small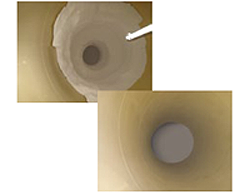 Material buildup - before and after
How our system works
Our crew inserts the cleaning system into the container through existing openings with a diameter as small as 4". The system is then guided from the exterior. The amount of power used for cleaning is controlled by the crew as the cleaning system is applied to the material build up. Compressed air is required to operate the system.
Advantages
The Silo Clean System is light weight and portable.
Our system will clean chutes, chimneys, large pipes and can do vertical cleaning. Our system is capable of cleaning air slides without damaging them.
Many companies spend fortunes modifying their cones, silos and bins for needed free flow; these costs are avoidable with our service. Older containers can be used indefinitely when cleaned with the Silo Clean System.
Our cleaning is done 100% dry. A wet silo takes time to dry, which can result in loss of production time. Using water has seasonal draw backs, with silo clean, cleaning can be done all year round.
The Silo Clean System guarantees all of the following benefits:
Dry process cleaning, without damage to facilities or the environment.
No worker entry into confined spaces.
Complete safety in every situation including an explosive environment.
Materials removed from scaling to total blockage.
Meets or exceeds all Government Health and Safety Regulations WORLDWIDE.
Over 27 years of success WORLDWIDE.
WE HAVE THE SOLUTION, WE GET THE RESULTS!
Some of our clients: